First year (terms 1 and 2): CLE students are required to receive 50% of their education at their entrance university, that is 60 ECTS.
Second year (terms 3 and 4): Compulsory mobility in one or two universities of the consortium.

There are four possibilities of moving between the universities of the consortium: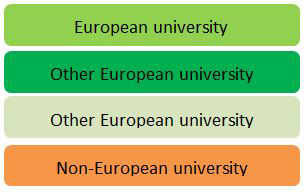 The CLE European universities:
Alma Mater Studiorum, Università di Bologna, ITALIA
Université de Haute-Alsace (Mulhouse), FRANCE
Université de Strasbourg, FRANCE
Aristoteleion Panepistimion Thessaloniki, ELLAS
Universidade de Lisboa, PORTUGAL
The CLE Non-European universities:
Université Cheikh Anta Diop (Dakar), SENEGAL
University of Mumbai, INDIA
For more information about the titles of the issued Diplomas, please visit the page Degrees.